Philadelphia Museum of Art
Tiffany Metalwork Relies on High-Performance, Environmentally Safe Coating System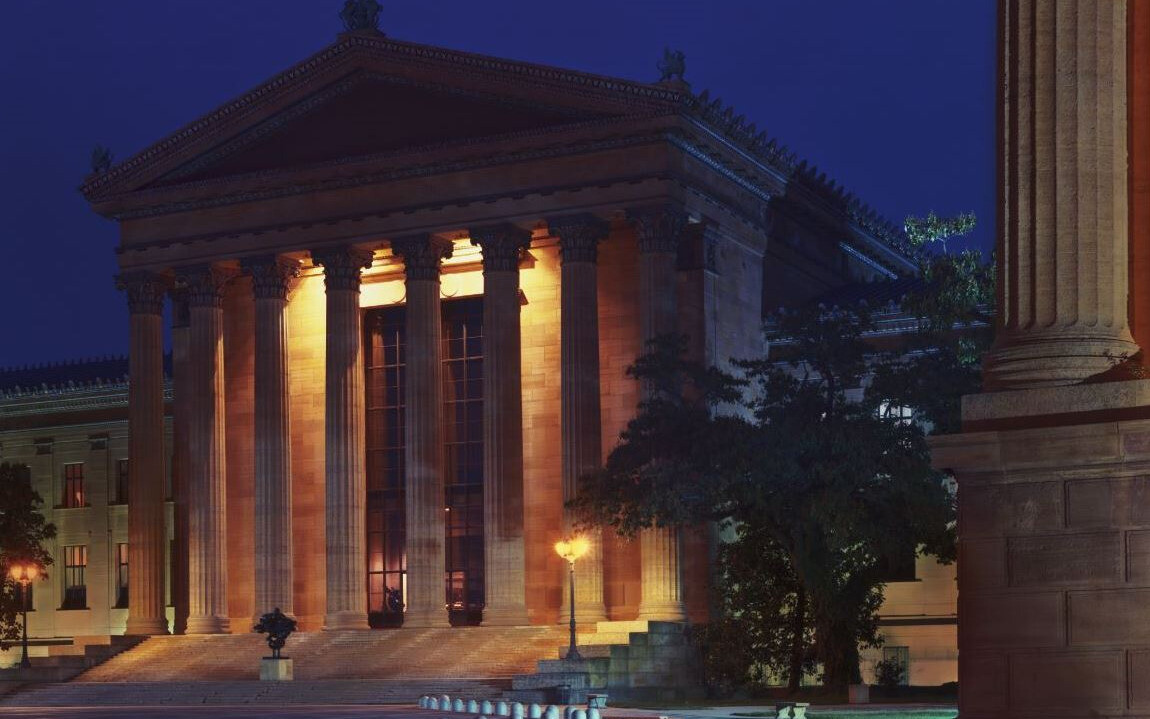 Architectural treasures
Established in 1877, the PMA has grown to house one of the largest collections of art in the United States. The building, modeled after ancient Greek temples, was constructed circa 1925 to 1928 of Minnesota dolomite and features detailed friezes adorned with rich color. Of special interest on the building's exterior are the polychrome terracotta sculptures on the tympanum of the north wing's pediment (seventy feet wide at its base and twelve feet in height at the center).
The historic Rodin Museum, which is administered by the PMA and located just a few blocks away, is also renowned for both the beauty of its grounds and its architecture. Opened in 1929, the museum displays one of the world's largest collections of works by the celebrated French sculptor Auguste Rodin. The massive Gates of Hell sculpture, a 21-foot-high sculpture with more than 100 figures, stands at the museum's entrance. In need of conservation, both the Rodin Museum and the PMA participated in the coatings research study.
The Conservation Department of the PMA is one of the most comprehensive in the world and it is internationally recognized for its advanced research and scholarly contributions to the field.
Andrew Lins, senior conservator of decorative arts and sculpture at the museum and a leading expert in the field of metal corrosion, is a consultant for the conservation of some of the nation's greatest treasures, including the Statue of Liberty, the Lincoln Memorial, and the Liberty Bell.
Museum Applications
Under the leadership of Andrew Lins and Dr. Tami Lasseter Clare, students in Dr. Clare's laboratory evaluated the performance of water-based coatings against traditional solvent-based acrylic coatings. The weathering studies of various candidate coatings on bronze and iron samples revealed that the coating based on the Kynar Aquatec® PVDF latex is highly resistant to damage by UV exposure and would increase the working lifetime of protective coatings. It was concluded that the best coating approach, one that could last three to four times longer than traditional methods, was a system using an acrylic primer base coat and a fluorinated (PVDF) top coat. "This hybrid coating system offers a much longer service life due to its extremely durable top coat," said Clare.
We tried to degrade the PVDF top coat, but it was so durable that we had to expose it to thousands of hours of weathering tests in an attempt to break it down.
With an optimum protective coating system now identified, the team moved to the next phase of the study – application to historic architectural metalwork that that was being restored during renovations of the museums. At the PMA, the applications involved bronze Tiffany window frames and sashes, large ornamental bronze Tiffany window grilles, and bronze Tiffany light grilles. Additional applications included bronze window frames that were being restored at the Rodin Museum.
Kynar Aquatec® and Kynar 500® are registered trademarks of Arkema Inc.
© Copyright 2021 Arkema Inc. All rights reserved.