High-Performance NeverFade® Façade Restoration Coatings Provide Maintenance-Free Finish That Lasts
20 Years or More
When John Pistorino set out to create the "Sandcastle," a Hurricane resistant demonstration building in Islamorada, Florida, he knew it would need to withstand the high winds and storm surges of the hurricanes that plague the Florida
Keys.
Florida is the hurricane capital of the United States, and Islamorada has been home to several hurricanes since construction on the Sandcastle started in 1991, including the powerful and destructive Category 5 Hurricane Andrew in 1992. A 1935 hurricane, one of the biggest to ever hit the area, had a storm surge of 25 feet and 135 mph winds. Pistorino wanted this demonstration home, which sits 50 feet from the Atlantic Ocean, to withstand that kind of battering.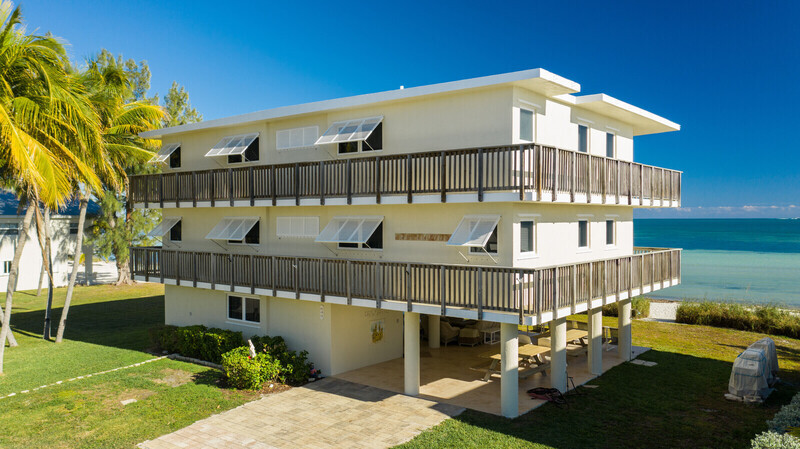 DURABLE COATINGS RESIST WEATHERING FROM STORMS AND SUN
A tough and sturdy house requires a tough and sturdy exterior finish, and when Pistorino wanted to freshen the Sandcastle's appearance in 2017, he turned to a long-term business associate, Michael Roberts of Lazer Distribution, for guidance. Lazer Distribution serves as a master distributor for APV Engineered Coatings in Florida and South America and exclusively carries NeverFade® Façade Restoration Coatings with Kynar Aquatec® for the architectural coatings market.
"It can be difficult to find an exterior coating that stands up to high humidity, extreme UV rays and the corrosive power of salt spray for more than five years without fading," said Roberts. "NeverFade® Coatings with Kynar Aquatec® have 50 years of accelerated weathering performance in South Florida. I knew the product would be a perfect fit for the Sandcastle." NeverFade® Coatings contain Kynar Aquatec®, a water-based resin that is ideal for air-dry, field-applied coatings. The premium, weather-resistant coating can be easily applied to a variety of substrates, including metals, plastics, wood, concrete, stucco, EIFS and previously painted surfaces.
"The use of Kynar Aquatec® and complex inorganic pigments gives NeverFade® the ability to resist film erosion, chalking and fading caused by harsh UV exposure," explained Erin Neff, Director of Marketing and Business Development, APV Engineered Coatings. "Degraded and faded paint is so commonly seen throughout Florida, which is one of the harshest environments in the country."
APV backs the coating's no-fade performance by a 15-year product-and-labor guarantee, which is transferrable to future building owners. If the coating fades by a ΔE of five or higher, APV will replace the product and cover the labor cost of re-coating. This warranty is unique to the architectural coatings industry.
"I was familiar with Kynar®-based finishes that are baked onto aluminum door and window frames in the factory," said Pistorino. "The finishes do a great job protecting the anodized aluminum from pitting and corrosion caused by the salt-laden spray so common along the Florida coast. When Michael told me that I could get that same protection in a field-applied coating formulated for all surfaces on my home's exterior, I was very intrigued."
APV custom-blends each batch of NeverFade® Coatings to match the individual customer's requested shade. In the case of the Sandcastle, APV matched the classic sand-color hue Pistorino specified for the home's stucco. The home's aluminum window trim and shutters were coated in white. An ultra-bright white was chosen for the home's polyurethanecovered concrete roof to give it a high total solar reflectance (TSR) value.
"Because NeverFade® contains Kynar Aquatec®, it can maintain its high TSR for a long time, with minimal need for cleaning," explained Ernie Porco, application engineer, APV Engineered Coatings. "Other roof coatings – even those marketed at 'cool white' – are made of acrylic, which breaks down under UV exposure, allowing dirt, mold and mildew to infiltrate the coated surface and reduce the TSR. Those other roof coatings also need to be applied at extra-high thicknesses because of this erosion, whereas just one thinner coat of NeverFade® provides longer-term protection and higher TSR values."
"A white roof with high reflectance values makes a big difference in keeping our A/C costs low," Pistorino said. "The roof shines very bright, especially compared with the other houses that surround the Sandcastle."
The coating process took the crew about five weeks to complete, which included a short pause for COVID- 19-related travel restrictions. The crew used rollers to coat the concrete, stucco and masonry and spray equipment to apply the system to the home's roof and metal surfaces. One coat of primer and one coat of topcoat provided good coverage of all surfaces.